It's Artist Appreciation Month on Qwertee: $5,000 in Prizes to be Won!
Posted: February 1st 2018
It's Artist Appreciation Month on Qwertee: $5,000 in Prizes to be Won!
It's back, and it's bigger than ever before with a whopping $5,000 in prizes! Starting today, we're running our 5th annual Qwertee Artists Appreciation Month. What's that you ask? Well, it's our way of saying a huge thanks to all the amazing artists from around the world for making Qwertee what it is, without your excellent designs every day we'd just be selling blank t-shirts which isn't much fun at all! So we've decided to have a month to celebrate all the awesome designers that we work with and also a contest to see which of you can create the most popular designs this month (and win a whole load of cash in the process!)
So how will this all work? All designs printed between today (Feb 1st) and March 15th on Qwertee will be eligible to win prizes, so be sure to submit your designs as soon as possible to increase your chances of winning (designs already submitted will also be eligible but ideally we're looking for as many new designs as possible this month).
We've made some big improvements to our voting system in general on Qwertee, if you've not submitted anything in a while we think you'll like them. While the best way to submit a design is still via our standard submission page: https://www.qwertee.com/submit-design
HOWEVER: We've just added a MEGA QUICK SUBMIT Option: https://www.qwertee.com/mega-quick-submit
Basically if you have a design that has sold well for you elsewhere you can just link to it, tell us about it and we'll let you know if we want to print it. No mockup needed, no voting required. It's the easiest way for you to suggest a design to us without doing ANY WORK!!!
Also, in between these 2 options we know some of you out there aren't so keen on voting contests in general or in trying to get people to vote for your designs etc. For you guys we've created a Quick Submit feature: http://www.qwertee.com/quick-submit which allows you to send a design directly to us with a few clicks for consideration with no hassle.
So whatever way you like to work, we'd love to see your designs. Now while saying we appreciate you guys is one thing, everybody loves cash prizes also, so check out what we've got on offer for the most popular designs coming up this month (just to say these are prizes on top of the regular commission you get):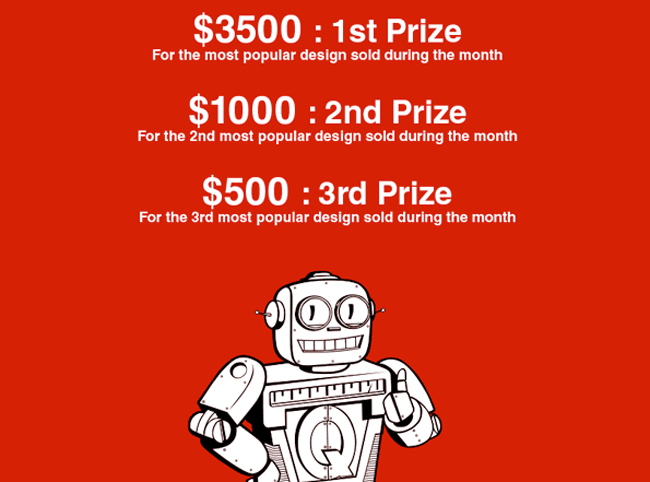 Anyway, we can't wait to see what you guys come up with this month and which of you will have the honour of becoming our 2018 "Qwertee Artist of the Month". At this stage Qwertee is probably pretty well known in the world of tee designers, but if you have any friends who have yet to send any designs our way, please feel free to send them over or let them know about the contest, we're always keen to work with new artists (and we do so every week). We're also printing nearly 100 designs a month now (we've come a long way from the early days of one every 3 days) so your chances of getting printed are higher than ever before!
Thanks for taking the time to read this and we can't wait to see what you come up with this month! And more importantly thanks again for helping make Qwertee what it is today, we really appreciate it:)
« Back