Getting the perfect fit is easy. Just grab your favourite tee shirt, lay it flat on a table, take a few measurements and pick the closest matching shirt. If you are in between 2 sizes always go on the larger, chances are your favourite tee has shrunk a little since you got it. Shirt sizes can vary by +/- 3cm, and will shrink by 1-3 cm over time. If in doubt, go on the bigger size! WOMEN (especially in the US and UK) Some customers say our shirts fit small compared to what they are used to (sometimes called Junior fit) so you may need to order up 1-2 sizes from usual. If in doubt compare to a tee you own that fit you. Thanks!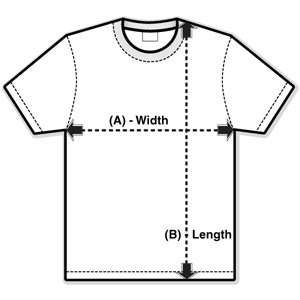 Shirt Width:
Lay your shirt flat on a table and measure the width under the arms (Measurement A on diagram)
Shirt Length:
Measure the length of your t-shirt from the seam at the neck to the bottom of the garment. (Measurement B on diagram)
Hoodie/sweater Sizing:
Our hoodie/sweater sizing broadly matches our Unisex tees so if you wear a Medium in them, choose a Medium Hoodie/Sweater also. To pick your closest size measure your chest size (that's all the way around your chest at it's widest part under your arms and compare it to the chart below picking the closest size. As with our tees, our Hoodies/Sweater tend to follow a slimmer fit, so if in doubt or between two sizes we'd always recommend ordering the larger one.
Sizes
S
M
L
XL
XXL
XXXL
Width (

cm

)
46
51
56
61
66
70
Length (

cm

)
69
71
73
76
78
80
Sizes
S
M
L
XL
XXL
Width (

cm

)
40.5
43
47
49.5
55
Length (

cm

)
64
66
69
71
72
Sizes
M
L
XL
Width (

cm

)
43
46
48.5
Length (

cm

)
55
60
65
Sizes
S
M
L
XL
XXL
Chest Size (

cm

)
92-101
102-112
112-117
117-122
127-132
Mens Sizes
S
M
L
XL
XXL
Chest Size (

cm

)
46
51
56
61
66
Length (

cm

)
70
73
75.50
78
81.50
Womens Sizes
S
M
L
XL
XXL
Chest Size (

cm

)
41
43
47
50
56
Length (

cm

)
64
67
69
71
72
WOOPS!
Sorry! You Need to be logged in to vote on designs. Click below to login now or register with the greatest daily tee site in the world! (takes only a few seconds)
About Design:
While one might think that all classic movie monsters are created equal and, indeed, are equally scary, this is not the case. There is a hierarchy in their world, a "Monster Food Chain" if you will. Lowest on the food chain is poor Frankie. He was never the brightest and thus he practically walked into the belly of the Werewolf. While the Werewolf or Wolf Man is a pretty fearsome foe, send him on an all expenses trip to Skull Island and he would be nothing but an appetiser for the Ape Wonder of the World, aka KONG! And while you might assume a 40 foot tall giant monkey would surely top of the pile, even he cannot compete with a creature who is (depending on your movie) up to 100 metres tall, breathes fire and destroy's Japanese capital cities like you might take a Sunday stroll in a park. So there you have it, the complete classic movie "Monster Food Chain" all neatly explained on a tee shirt!
Comments:
REPORT ABUSE