Getting the perfect fit is easy. Just grab your favourite tee shirt, lay it flat on a table, take a few measurements and pick the closest matching shirt. If you are in between 2 sizes always go on the larger, chances are your favourite tee has shrunk a little since you got it. Shirt sizes can vary by +/- 3cm, and will shrink by 1-3 cm over time. If in doubt, go on the bigger size! WOMEN (especially in the US and UK) Some customers say our shirts fit small compared to what they are used to (sometimes called Junior fit) so you may need to order up 1-2 sizes from usual. If in doubt compare to a tee you own that fit you. Thanks!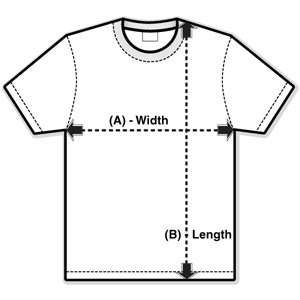 Shirt Width:
Lay your shirt flat on a table and measure the width under the arms (Measurement A on diagram)
Shirt Length:
Measure the length of your t-shirt from the seam at the neck to the bottom of the garment. (Measurement B on diagram)
Hoodie/sweater Sizing:
Our hoodie/sweater sizing broadly matches our Unisex tees so if you wear a Medium in them, choose a Medium Hoodie/Sweater also. To pick your closest size measure your chest size (that's all the way around your chest at it's widest part under your arms and compare it to the chart below picking the closest size. As with our tees, our Hoodies/Sweater tend to follow a slimmer fit, so if in doubt or between two sizes we'd always recommend ordering the larger one.
Sizes
S
M
L
XL
XXL
XXXL
Width (

cm

)
46
51
56
61
66
70
Length (

cm

)
69
71
73
76
78
80
Sizes
S
M
L
XL
XXL
Width (

cm

)
40.5
43
47
49.5
55
Length (

cm

)
64
66
69
71
72
Sizes
M
L
XL
Width (

cm

)
43
46
48.5
Length (

cm

)
55
60
65
Sizes
S
M
L
XL
XXL
Chest Size (

cm

)
92-101
102-112
112-117
117-122
127-132
Mens Sizes
S
M
L
XL
XXL
Chest Size (

cm

)
46
51
56
61
66
Length (

cm

)
70
73
75.50
78
81.50
Womens Sizes
S
M
L
XL
XXL
Chest Size (

cm

)
41
43
47
50
56
Length (

cm

)
64
67
69
71
72
WOOPS!
Sorry! You Need to be logged in to vote on designs. Click below to login now or register with the greatest daily tee site in the world! (takes only a few seconds)
About Design:
Tesla moved to the United States in 1884. When he arrived, he worked as an assistant to Thomas Edison. Edison had just invented the electric light bulb, but he needed a system to distribute electricity to houses. He designed a DC (direct current) system, but it had many bugs in it. Edison promised Tesla lots of money in bonuses if he could get the bugs out. Tesla took the challenge. Edison later refused to keep his promise. Tesla quit not long after that, and Edison spent the rest of his life trying to discredit Tesla. Later in 1888, Tesla devised a better system of transmission, the AC (alternating current) system used in houses around the world today. By using Tesla's newly developed transformers, AC could be stepped up and transmitted over long distances through thin wires. Edison's DC couldn't be stepped up, required a large power plant every square mile and thick cables for transmission.
Comments:
REPORT ABUSE