Getting the perfect fit is easy. Just grab your favourite tee shirt, lay it flat on a table, take a few measurements and pick the closest matching shirt. If you are in between 2 sizes always go on the larger, chances are your favourite tee has shrunk a little since you got it. Shirt sizes can vary by +/- 3cm, and will shrink by 1-3 cm over time. If in doubt, go on the bigger size! WOMEN (especially in the US and UK) Some customers say our shirts fit small compared to what they are used to (sometimes called Junior fit) so you may need to order up 1-2 sizes from usual. If in doubt compare to a tee you own that fit you. Thanks!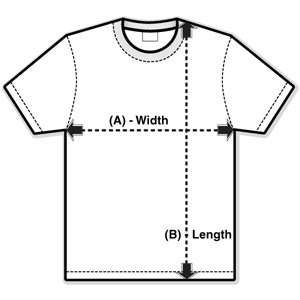 Shirt Width:
Lay your shirt flat on a table and measure the width under the arms (Measurement A on diagram)
Shirt Length:
Measure the length of your t-shirt from the seam at the neck to the bottom of the garment. (Measurement B on diagram)
Hoodie/sweater Sizing:
Our hoodie/sweater sizing broadly matches our Unisex tees so if you wear a Medium in them, choose a Medium Hoodie/Sweater also. To pick your closest size measure your chest size (that's all the way around your chest at it's widest part under your arms and compare it to the chart below picking the closest size. As with our tees, our Hoodies/Sweater tend to follow a slimmer fit, so if in doubt or between two sizes we'd always recommend ordering the larger one.
Sizes
S
M
L
XL
XXL
XXXL
Width (

cm

)
46
51
56
61
66
70
Length (

cm

)
69
71
73
76
78
80
Sizes
S
M
L
XL
XXL
Width (

cm

)
40.5
43
47
49.5
55
Length (

cm

)
64
66
69
71
72
Sizes
M
L
XL
Width (

cm

)
43
46
48.5
Length (

cm

)
55
60
65
Sizes
S
M
L
XL
XXL
Chest Size (

cm

)
92-101
102-112
112-117
117-122
127-132
Mens Sizes
S
M
L
XL
XXL
Chest Size (

cm

)
46
51
56
61
66
Length (

cm

)
70
73
75.50
78
81.50
Womens Sizes
S
M
L
XL
XXL
Chest Size (

cm

)
41
43
47
50
56
Length (

cm

)
64
67
69
71
72
WOOPS!
Sorry! You Need to be logged in to vote on designs. Click below to login now or register with the greatest daily tee site in the world! (takes only a few seconds)
About Design:
It's an epic day here on the field in Tattoine. The bottom of the 9th. 2 men on base, with the Rebel home team ahead by 2 runs. Typically a big hitter, Vader hasn't made much of a showing in this game, and really needs to land one here to pull out a victory for the team and salvage his own record as well. After a conference with co-managers Yoda and Kenobi, rising star Skywalker returns to the mound with strong set to his jaw and look of grim determination in his eye, perhaps remembering the beating that the Rebels took the last time they faced this team on the icy fields of Hoth. He winds up. Here's the pitch. Vader swings ... and it's NO GOOD! The Empire has struck out, and the Rebels seize the day! This is a HUGE win for the scrappy Rebel team, and gives them just the push they need for when they face the mighty Empire next on their own turf at the Death Star, as this storied rivalry continues.
Comments:
REPORT ABUSE